Our work with Jamie Carragher's 23 Foundation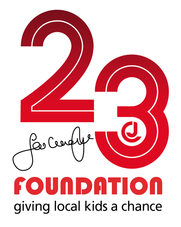 23 Foundation is a charitable organisation founded by one of the most legendary players in Liverpool Football Club, Jamie Carragher. Since 2009, the foundation has been offering local kids in Merseyside a chance to achieve their dreams through local charities, clubs and community initiative by providing means to make a difference, whether it is helping local kids recover from illness or to provide a framework for achieving their goals.
I am very honoured to be one of the Ambassadors for the 23 Foundation, and it provides me a perfect platform to give back to the local community and help spread the word for the organisation. To aid Jamie's 23 Foundation, all proceeds made via items sold on my website, including signed football shirts, signed photographs, etc, will be contributed directly to the foundation. You may also make a generous donation via the foundation's website (
http://www.jamiecarragher23.co.uk/
) directly.
If you have any special requests on purchasing specialised signed items through this site, you are most welcome to contact me directly, and I will try my best to accommodate those requests individually.
As Jamie Carragher said
"Being part of a team and achieving something together is much more satisfying"
. So let's make a difference together today!
Remember, every penny counts, and it can make a big difference to somebody in need!
---
"Being part of a team and achieving something together is much more satisfying" Jamie Carragher

---