Working with the Liverpool Delhi Supporters Club to help Street and Working kids in India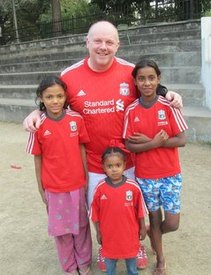 LFCHK has also made a couple of charity visits to India, where we have provided support to street and working kids in Delhi, with the help of the local LFC supporters group – Liverpool Delhi Supporters Club (the Delhi Kop).
We linked up with a local charity 'Butterflies' that provides support, shelters, education and sport to thousands of street and working kids across Delhi. We attended a soccer day and provided the kids with Liverpool T-shirts, footballs and training aids.
Kaushal Goyal said;
"DelhiKop, an official Liverpool supporters club in Delhi, is proud to be working with LFCHK in bringing whatever little happiness we can to the children being helped by Butterflies. Our idea is to promote sports to these underprivileged children of the Delhi area" (Contact LDSC here: www.delhikop.com)
Having inaugurated with the foundation, we made a second visit soon after to provide kids in needs with LFCHK special designed T-shirts, as well as a cash donation of INR 30,000 to 'Butterflies' to fund their future weekly soccer events.
We recently proved the kids with 25 football kits including boots. As we as providing funds for winter clothing and boots.
During these events, the kids are offered support, English lessons, a meal and medical support if needed.
You can find out more about 'Butterflies' by clicking the link below.
---
---
Working with the Kinabalu Reds In Sabah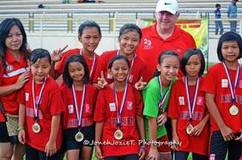 LFCHK has made several charity visits to Sabah, where we joined forces with the local Liverpool's supporters group – the 'Kinabalu Reds' to help the needy.

In my first trip, we supplied the Montfort Boys Training Centre - a local home for underprivileged and orphaned kids, with Liverpool T-shirts and footballs, and have continued to support them ever since. As a result of our initial connection, the Montfort boys now regularly donate blood to the local hospital.

We also made donations to a look school for the handicapped for sports gear, and a amazing individual who cares for abandoned babies (some with suffer illnesses including Aids) and the elderly.

My second trip was more ambitious, which we co-sponsored a Under 12's Futsol competition with the Sabah Sports Board. It was a 2-day event involving over 400 kids. Having got Jamie Carragher to endorse the event, we were able to get the government to pledge additional funds for kids sports in Sabah.

LFCHK presented the 40 competition winners with Liverpool FC HK special designed t-shirts, medals and a signed Jamie Carragher picture.

Recently we also provided kits for a local Futsol team and raised a substantial amount for HJC and local charities during their annual dinner.

---